It's an exhilarating time for the user experience community. Rising awareness of our value plus emerging technologies and transmedia trends have created conditions for a step change in our practice.
As an information architect, I'm enjoying the new challenges immensely, even as they sweep me outside my comfort zone. I've designed social software and rich user interfaces. I've sketched scenarios for the future of mobile search. I've mapped the user experience across channels and applications. And, I've increasingly found myself striving to clarify ideas for folks in the executive suite.
Consequently, I'm rethinking my role, redefining my deliverables, and embracing new forms of interdisciplinary collaboration. For instance, I've ensnared Jeffery Callender as co-author of Search Patterns, a new book (in process) about design for discovery and the future of search.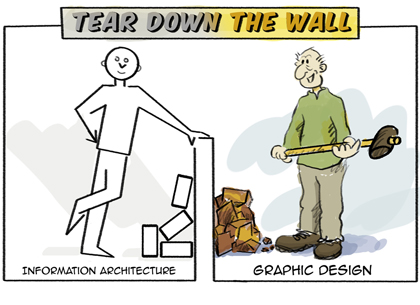 Together, we're hoping to bring search to life with colorful, compelling stories, maps, and illustrations, which brings us back to deliverables.
Tools for Thinking
Two books have inspired me to think differently about discovery, communication, and design. First, Made to Stick challenged me to think simple. This book reveals the power of short phrases and surprising, personal stories to change minds and shape memories:
Proverbs are the Holy Grail of simplicity. Coming up with a short, compact phrase is easy. Anybody can do it. On the other hand, coming up with a profound compact phrase is incredibly difficult [yet] enduringly powerful.

We need to open gaps before we close them. Our tendency is to tell people the facts. First, though, they must realize that they need these facts.

This realization – that empathy emerges from the particular rather than the pattern – brings us back full circle to the Mother Teresa quote: "If I look at the mass, I will never act. If I look at the one, I will."

The story's power, then, is twofold: It provides simulation (knowledge about how to act) and inspiration (motivation to act).
Second, The Back of the Napkin encouraged me to think visual. This book shows how sketching can help us discover and sell ideas:
Visual thinking means taking advantage of our innate ability to see – both with our eyes and with our mind's eye – in order to discover ideas that are otherwise invisible, develop those ideas quickly and intuitively, and then share those ideas with other people in a way that they simply "get."
These two books are gems, and yet their simple ideas are surprisingly difficult to apply. Making things easy is hard. But, for our projects and our book, we're convinced it's worth the effort. So, building on Dan's garage-sale principle: "everything looks different when we can see it all at once," Jeff and I have begun collecting user experience deliverables, and laying them all out, so we can look, see, imagine, and show.
The Deliverables
This list describes twenty user experience deliverables with links to relevant resources and examples. Clearly, these artifacts of the process are not the whole story. We must also think about the relationship between goals, methods, and documents. And yet, for many of us, deliverables are the coin of the realm and merit special attention.
Organizing the Deliverables
Of course, compiling a list is only the first step. For each project, we must strive for the optimal mix. Since our deliverables resist a taxonomy, asking questions may help derive their folksonomy.
Audience. Who must you reach?
Content. What is the message?
Context. Where is the conversation?
Process. When is the message?
Problem. Why are you communicating?
And, the questions never end. Should your argument be simple or elaborate? Quantitative or qualitative? We can organize and describe these deliverables until the end of time. We've made a start. Perhaps you can help. Will you tag a few in our collection on Flickr?
Treasure Map
If you've made it this far, you deserve a reward. That's a lot of words about a lot of deliverables. And, that's the problem. It's hard to find the best trees when we can't see the forest. So, we often fall back on old habits. We churn out wireframes when a story may be worth its weight in gold. Some great deliverables stay hidden in plain sight. That's why we created this treasure map for our wall (and yours).
Good luck exploring! And, please let us know what you discover!
by Peter Morville